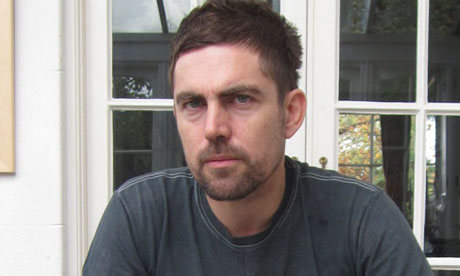 What is the current status of The Elder, your upcoming film that is based on the 1981 KISS concept album Music From The Elder?
The current status is that I am right in the middle of writing the screenplay. In the meantime, we are all working hard to build the profile of the project. It's going pretty well so far. We continue to receive offers of support and technical expertise from all over the world. Our cast and crew list is growing all the time. Just today, we got a professional Hollywood storyboard artist on board. And all of these wonderful people are giving us their time and their expertise for free, out of love and enthusiasm for the project.
The whole thing has been a revelation to me. I never imagined that we'd receive as much support as we have. It's been truly humbling. The project genuinely feels airborne now. It is now our duty not to abuse or exploit all this goodwill. We are going to do this properly. Otherwise, what's the point?


Have you had any luck yet in obtaining Gene Simmons' and/or Paul Stanley's blessing for you to make the film?

Not yet. They know about us but have yet to make a move. They don't need to yet, really. This is all just a big folly until we have a decent script. When we have that, we have cinematic currency. It's as simple as that. Only then will their hand be forced. As soon as we have a script, we'll go over and hopefully meet them and pitch the whole project in person.
Ideally, Gene Simmons will play Blackwell, our baddie, in the movie. Obviously, the worst case scenario for us would be a big NO from KISS and threats of lawsuits, etc. Were that to happen, we'd be forced into making an entirely unauthorized movie, which would be a shame as I hope KISS will be able to see the potential in this for everybody concerned. But we're making this film, either authorized or otherwise. It's happening.


I became a KISS diehard in October of 1993, purchased Music From The Elder a few months later, fell in love with it after my first listen and have loved it ever since. What was your reaction when you first listened to it?

I thought it was disjointed and lacked any clear narrative thread. Even though I eventually grew to love it, I still believe this to be the case. Doesn't everybody?


When did you decide to make a film based on Music From The Elder and why?

I first had the idea two years ago, in the middle of writing an email to Julian Cope's wife Dorian. I think at first, the idea was a joke. However, when Dorian's reply email arrived suggesting that this was, in fact, an idea worthy of true genius, I began to think about it seriously. And then after a few years' musing upon how I might go about attempting to do it, I started to actually do it.
As for why, well, because it wasn't done 30 years ago and nobody has thought to do it since. Of course somebody should do it. It just happens to have been me who had the idea, I guess. Now I've just got to fulfill my destiny, etc. And win an Oscar and so on.


When did you officially begin working on the film?

Well, our website went live in November of 2011, following a few months' technical planning and content writing. I started to write the script in earnest in December.


As a filmmaker, who are some of your influences and why?

This is about the tenth interview that I've done on this project and believe it or not, you're the first person to ask me this question! I thought everyone would ask it but people seem more interested in asking about how scared I am of Gene Simmons. My primary cinematic influences are Herzog, Tarkovsky, Jodorovsky and the Coens' No Country for Old Men, whose tone I plan to attempt to lift wholesale.
Besides Music From The Elder, what are some of your favorite KISS albums/songs and why?
My favourite KISS albums are:
UNMASKED because it's so poptastic, has a great album cover and loads of Ace songs.
ALIVE! because it's the first one that I ever heard and still their definitive moment on record for me.
HOT IN THE SHADE because I consider it their best non-makeup LP (and because I'm weird).
ACE's '78 SOLO LP simply because of the chorus of "What's On Your Mind".
DESTROYER because of its songwriting and 3D sonics.
As for individual songs, like most people, my all time favourite has to be Gene's seminal interpretation of the Prodigy's "Firestarter" from his wonderful
Asshole
LP.
Briefly discuss each of your current and former bands.
OK then.
Well, I'm a guitar player.
Armageddon's Ring: Righteous metal. I was 14.
Excalibur: We changed the name of the band to Excalibur because we thought it sounded more grown up. We were 15 now, you see?
Exposed: a joke band. Actually, a joke on purpose, not a joke by accident.
Rag 'n' Bones: I was now 17, and Guns 'n' Roses had just arrived, as you can see.
Trash Can Junkies: we changed the name of the band to the Trash Can Junkies because we thought it sounded more grown up.
Cat Ballou: I was 19 and had moved to London to be famous. We sounded quite like The Stooges and split up because of drugs and women. Finally grown up!
Love Knuckle: entirely disillusioned with having grown up, I started a grunge/Dinosaur Jr-type band with a female bass player and drummer. I sang, played guitar and wrote all the songs. They fired me from the band.
I then retired from rock and roll until 2004, when...
Armageddon's Ring reformed, but now as an improv electronica outfit.
Crater
: we changed the name of the band to Crater because we thought it sounded more grown up. We are now a three-piece free improv unit.
Our first official CD has recently been released on the Critical Heights label here in the UK.
Indeterminate Quartet: this is a neo-classical quartet specializing in indeterminate and graphic scores. I play the clarinet in this, as well as various electronic stuff.
Delphic Vapours
: we are a kosmische guitar duo. Very Cluster / Popol Vuh.
Order of the Hoof: this is an improvising guitar quartet.
You did ask.
Briefly discuss each of the books that you've written.
Hell Bent for Leather
(2004): A humorous memoir of my failed attempts to make it as a rock star (see above) in the '80s and '90s.
Rock me Amadeus
(2006): a humorous book which follows my attempts to get into classical music over a period of about two years. I travelled all around Europe in my quest and got into fights, etc.
How to be a Better Person
(2008): a humorous book which follows my attempts to improve myself as a human being by doing as much and as varied volunteer work
as possible
over a two year period.
More Parents
(2011): a book which documents my search for my birth mother (I am adopted). Slightly less humorous, this one.
The Python of Strangulation
(2012): this is a novel about chess. I am still writing this, though it's currently on hold as I'm working on The Elder movie full time at the moment.


As a musician and as a writer, who are some of your influences and why?

As a musician: Fred Frith, Kawabata Makoto, Keiji Haino, Angus Young and Keith Rowe.

As a writer: Julian Cope, Lester Bangs, Bob Dylan, David Lee Roth and John Dos Passos.


Feel free to mention anything here that hasn't already been mentioned above.

I have two children - I'm a full-time parent.

I really think Steve Tyler has turned into a bit of a dick.

How scared are I of Gene Simmons? VERY.
If you are interested in making a donation to help get The Elder made, please click here. All donors will receive a credit at the end of the film.