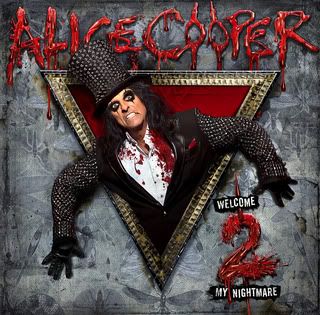 I'm so freaking confused right now......
I've been excited since last year when I heard that Alice Cooper was recording an album here in Nashville with new Music City resident Bob Ezrin. I was even more excited when I heard that said album was going to be a sequel to Alice's legendary
Welcome to My Nightmare
.
And then today happened. Today, I read that Nashville's favorite high school dropout, Ke$ha, is appearing on one of the tracks for
Welcome 2 My Nightmare
. While I'm all for interesting mashups with styles colliding, I gotta wonder if Ezrin's back on nose candy and Alice got lost in a bottle!
But then I start thinking about it. Ke$ha, while certainly not my thing, is pretty theatrical in her own right and has publicly mentioned her fandom of Alice (as well as other classic rock artists) in the past. Plus, Alice probably figures to get some mileage from the iTunes downloads coming from 15 year old curious Ke$ha fans so it does make sense to a point.
I still gotta say, it's a bit of a letdown but I still hold out hope that this newest, Nashville-bred Alice Cooper album will be at least half as entertaining as its predecessor.
If there's a video for Ke$ha's song on the album, I hope that she fits in better than Kane Roberts' hilarious guitar-aping in the 'Freedom' video from the 80's.