Direct Download
We begin this week with an explanation of Aaron Camaro's hobby of hanging out with big, beefy dudes that like to oil themselves up and roll around with each other. In other words, he's involved in microphone work for
professional wrestling
in the Nashville area. Aaron gives us the lowdown on all of the
relevant info
that you need to watch hulking guys beat the snot out of each other and Chris calls him out for trying to turn the show into a roid-themed infomercial. Chris hasn't been impaled by a turnbuckle….yet.
Aaron Camaro's Baby Picture
Next, we are proud to bring you the first entry of Rage Against the Scene. This segment was a popular written feature that Chris used to write that was enjoyed by the Nashville-area hard rock and metal crowd. We decided to bring this feature back as an audio entity so you can hear Chris bitch all about what he hates about the
Nashville Scene
(publication) as well as the local rock scene in general. No one is safe from the ranting and Chris lets the bile spew forth with rants about the recent
Soundland
festival and why he thinks it's nothing more than a bunch of secret-handshake bullshit that ignores a multitude of talent in the local area. He also tears into the Scene publication in general for swinging from
Jack White
's nuts, only promoting one local record store and mentioning
Those Darlins
&
Jeff the Brotherhood
for the millionth time as if they are God's gift to the music industry and should be inducted into the Rock and Roll Hall of Fame immediately. Come to think of it, it would make sense since the Hall of Fame (ala Rolling Stone's editorial staff) has about as much common sense and taste in music. Chris wraps up the segment by hinting at a future rant against 102.9 the
Buzz
in the future. Yes, his hate has spread to other avenues and modern rock is starting to fit in the crosshairs.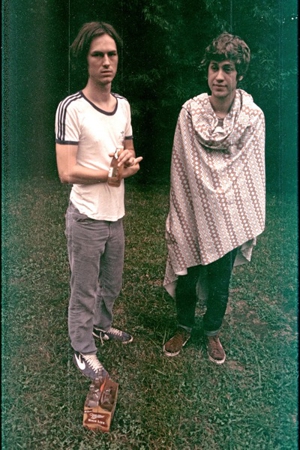 The Future of Music....So ironically neato! (sarcasm mode off)
Our feature interview for this Nashville X-tra premier is Chris Higgins from
Piranah
. Higgins had plenty of interesting things to say including his opinion of the local Nashville rock scene vs. playing out of town, some stories from the bands trip to Illinois to open up for
Soil
and what it felt like to have a room with hundreds of people singing their song back to them. He also gives his take on whether Nashville has the ability to have a scene comparable to booms previously seen in Los Angeles and Seattle. With a tip of the cap to such local notables such as Ray LeGrand of
Nashville Metal Bands
, Higgins tells us what he thinks it might take to break Nashville as the next musical boomtown. We touch on some personal history with Higgins' recollections of his travels from his move to L.A. in the early 90's to his time playing R&B music in North Carolina, to his return to metal in Nashville and how he became the skin-basher for Piranah.
There's lots more planned for future Nashville X-tra episodes including interviews with venue managers, promoters, and more local band members. To our Music City rock & metal brethren, keep your horns in the air and your shot glass full!
Music Featured: